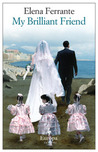 My Brilliant Friend by Elena Ferrante
My rating: 4 of 5 stars
I found My Brilliant Friend engrossing, a fast read for sure. I don't usually read series, but I don't see how I could not read at least the second book given how this one ends! A compelling story of childhood friendship, fueled as much by jealousy and competition as affection. One of the most convincing things about the story is how the protagonist, Lenu, always sees her friend Lila's life as more exciting, even though Lenu herself is doing something no one else in her neighborhood is doing — going further and further in school, and excelling at it (though education is not highly valued, which ends up making her feel like a misfit). The novel makes clear how difficult it is for both girls not only to make their own choices and live their own lives, but also to have intelligence and creative vision in a world where their attractiveness is what is most valued. I only wish I could have read it in the original Italian — obviously you always wonder what you're missing when you read something in translation, but in particular there were things with this translation that felt awkward.